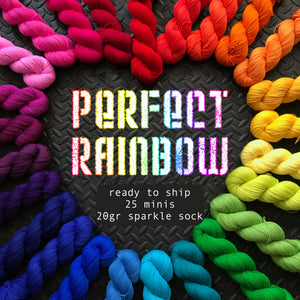 Perfect Rainbow *25 Mini-Skein Set* Broadway sparkle sock yarn (20gr each)-- ready to ship
READY TO SHIP
"Perfect Rainbow" -- 25 mini-skein set -- 20gr each color
For those who want an advent set, without wanting an advent set.
25 solid hand-dyed colors, takes you from pink to red to orange to yellow to green to blue to purple. 

If you are planning to make a temperature project, you can order half-skeins and full-skeins in any of the colors to add to your set. See our Solo Colors listing.

This listing is for 1 set of 25 mini-skeins of hand-dyed yarn. 
***Processing Time: 2-3 business days***
--Broadway Sparkle Sock 
75% SW Merino, 20% Nylon, 5% Stellina
each: 20gr, 87yds // total: 500gr, 2175yds
We do our very best to ensure quality and consistency, each hand-painted skein is unique work of art for you! Please note that some variation may occur when dyed on other fibers.
Want the Perfect Rainbow on another yarn base? We are happy to dye it just for you, Perfect Rainbow Dyed to Order.
If you have any questions, please feel free to ask.
Ready to Ship Processing Time 2-3 business days.
---
We Also Recommend