---
Every day is a new chance for color. We hope you enjoy our cheerful selection of hand-dyed yarns and sock blanks, quilted project bags, knit and crochet patterns, and exclusive enamel pins.
Processing times: Ready to Ship - 2-3 days
---
STAIRMASTER SCARF PATTERN
One of my long-time goals for Yarn Over New York is to rework our older designs to feature our own hand-dyed yarns. I'm proud to present "Stairmaster Scarf" 2023!
This cute design from 2016, has gotten a major overhaul. We've reworked it for Yarn Over New York Wave Hill zebra-effect yarn. You only need one skein! (Shown in "Black Pearl")
We've also done a bit of a re-design to accentuate the miter corner shaping and rewritten the instructions for greater clarity. We hope you love it!
Pattern Link
WAVE HILL ZEBRA YARN
Wave Hill is a gorgeous 100% superwash fine merino. It is two-plied with amazing bloom and is a great yarn for scarves, shawls and sweaters. The black barber pole effect appears sporadically throughout the skein, creating a variegated marled look.
For a limited time, get the pattern for free with your purchase of a full-size skein of Wave Hill zebra-effect yarn, including new colors, old colors and clearance colors.
Please note:
Put a full-size skein in your cart and put the Stairmaster Scarf pattern in your cart and the price of the pattern will automatically become free! No code needed.
Yarn Link
---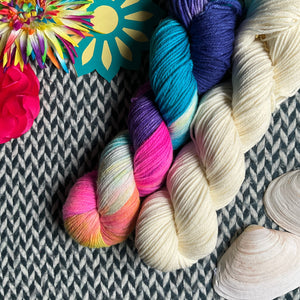 "STEEZY COWL" JELLYWISH/EVE *DK Duo* -- Kew Gardens DK yarn -- ready to ship
---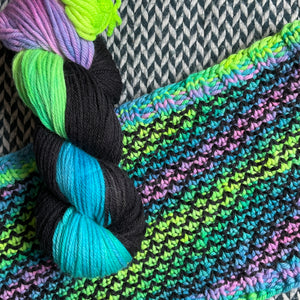 FISHBOWL PALACE/CHARCOAL -- BULKY DUO -- Pelican Bay bulky nonsuperwash yarn -- ready to ship
---
Share your yony projects on social media
Join the Yarn Over New York Group on Facebook and keep your eyes out for "Work in Progress Wednesday" and "Finished Object Friday" prompts.
On Instagram, don't forget to tag @yarnovernewyork and #yarnovernewyork in your YONY project photos, so we can see and share your work!