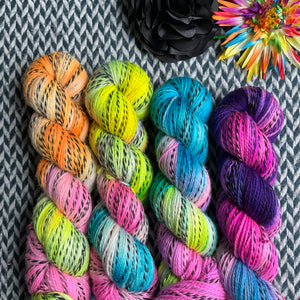 AQUARIUM FADE *4 Skein Set* -- Wave Hill zebra yarn -- ready to ship
READY TO SHIP
"Aquarium" 4 skein set
Colorways included: Scuba Dancer, Androids Dream, Fishbowl Palace, Electric Sheep
Pattern Suggestion: "Fading Paradox" Shawl by Hanks and Needles, "Eyelet Burst Shawl" by Stephen West
***Processing Time 2-3 business days***
--Wave Hill zebra-effect fingering
100% SW Merino
each: 100g, 438yds, total: 400g, 1752yds
2 plies
This listing is for 1 set of 4 skeins of hand-dyed yarn. Please check the quantity to see how many are available. 
We do our very best to ensure quality and consistency, each hand-painted skein is unique work of art for you! Please note that some variation may occur when dyed on other fibers.  If you have any questions, please feel free to ask.
See all our 4 Skein Fade Sets.
Ready to Ship Processing Time 2-3 business days.
---
We Also Recommend